This company uses specially trained dogs to run geese out of city parks
Chris Santopietro, founder of Geese Relief, has 10 furry employees conducting daily property patrols for more than 120 clients in the area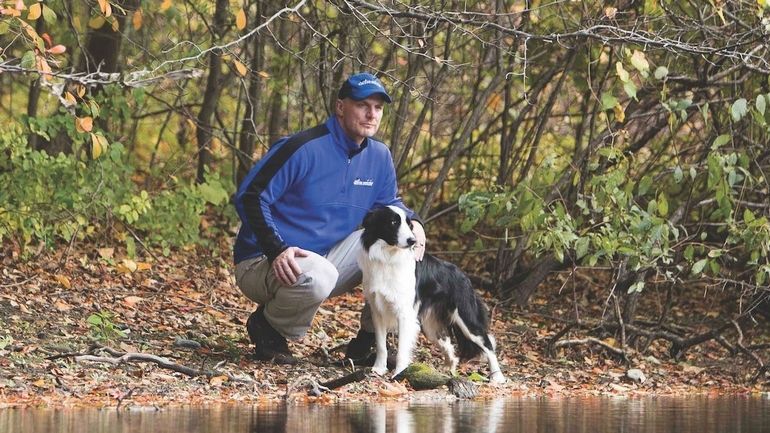 Chris Santopietro has nothing but praise for his team: They follow orders without question, and they always show up for work bright-eyed and bushy-tailed. "That's the great thing about border collies," he said. "They love to work."
Santopietro owns Geese Relief, a company in Greenwich, Conn., that uses herding dogs to move wild geese from city golf courses, parks, and other spaces.
His eight full-time employees and 10 border collies—ages 2½ to 13—conduct daily property patrols for more than 120 clients in New York City, Westchester and Connecticut.
Chris Santopietro
AGE 51
BORN Norwalk, Conn.
RESIDES Wilton, Conn.
EDUCATION B.A. in consumer affairs, University of Rhode Island
JOB FOR LIFE His dogs work until about age 11. "Retirement" means tagging along on client visits. "We let them think they're working. Or they hang with me in the office," Santopietro said. "They're my family; I could never give them up."
SIXTH SENSE His daughter Alexandra, who has Down syndrome, will sit with all 10 dogs. "They're gentle with her; they don't jump," he said. "It's as if they know she's special."
OTHER BIG APPLE CLIENTS Fordham University and Mount St. Michael Academy in the Bronx THE POOP SCOOP On average, a Canada goose produces 2 pounds of droppings every day.
Working individually or in pairs, the border collies stalk the geese until they fly away. "We don't use the word chase," he said. "My dogs want to herd the geese and move them somewhere else." The border collies are trained to pay attention only to Canada geese, which congregate near bodies of water, ripping up turf and depositing mountains of waste. The dogs leave ducks and swans alone.
The New York Botanical Garden in the Bronx is a typical client: Geese Relief stops by twice a day Monday through Saturday, plus once on Sunday, on a year-round basis. The Bronx has a "resident population" of geese that decades ago stopped flying south for the winter. In the fall and spring, migrating geese also show up there.
Fees range from $500 to $2,800 per month, depending on a property's size, location, water features and ease of access. Revenue exceeded $1 million last year.
Growing up in a family of entrepreneurs—his father owned a flower shop and greenhouse—Santopietro said he knew he'd eventually start his own business.
In the 1990s, while working for a company that sold golf course maintenance equipment, he noticed that some country clubs kept border collies to chase geese off the links. He started seeing geese everywhere, and recalls thinking, I wonder what people would be willing to pay to keep the geese away?
Plus, he was good with dogs. "They always liked me; I always liked them," he said.
Santopietro found a breeder who had just started training dogs for geese control. In 1997 he bought his first border collie, Laine, for $3,000, and made a Geese Relief decal for his truck. He kept the full-time job, and he and Laine would visit clients in the early mornings, during his lunch hour and on holidays. "Lucky for me, geese don't take vacations," he joked. After about a year, he quit his day job to herd geese full time.
---